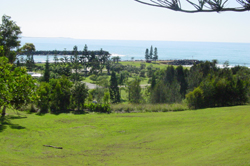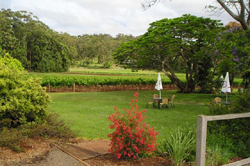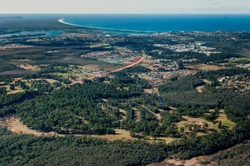 Port Macquarie was discovered and named by Surveyor - General John Oxley in October 1818, In May 1819, Governor Macquarie sent lieutenants John Oxley and Philip Parker to survey the entrance to Port Macquarie and assess its potential for settlement. In November 1820, Governor Macquarie asked John Oxley to carry out a final survey, this time of the capabilities and advantages of the port for establishing a settlement for convicts.
Inneslake Estate ~ Port Macquarie
Archibald Clunes Innes was Commander of Port Macquarie from November 1826 to April 1827. Captain Innes returned to Port Macquarie in 1830 and settled on 2,560 acres at Lake Burrawan - he renamed it Lake Innes - six miles from town, where he built a stately mansion.
The 1000 ha property known as Innes Lake Estate is part of Port Macquarie's growth area and is owned and being developed by brothers Jim and Bob Charley. The land has been owned by the Charley family since 1906 and during that time, the family have been engaged in milling, fruit growing and grazing pursuits. For the last 10 years the planning and development of the property has been initiated to meet the growing needs for residential lots in three neighborhood areas.
The challenge for the planners " Luke and Company " has been, and continues to be, the creation of an exceptional residential estate in which the essential design and planning elements would produce an aesthetically pleasing and harmonious living environment for residents, fauna and flora. The concept has been to retain the timbered nature of the estate by creating residential lots in a peaceful forest setting not far from the town center. The area is alive with kangaroos, wallabies, koalas, kookaburras, wild fowl and native birds of every size and color. The protection of fauna and the nurture and enhancement of their living environment was of paramount importance.
At the planning stage an innovative proposal was embraced by the project team. The proposal included residential development of two headlands separated by a nature reserve with these two distinct precincts linked by an 18 hole golf course, villas, vineyard, winery, restaurant and adequate open space areas for equestrian pursuits as well as walking trails for observing nature.
InnesLake Estate was the first fully planned and constructed, residential community in Port Macquarie, which was mindful of and incorporated a safe and sustainable living environment for residents and fauna. The result is a successful project, which has resulted in 300 houses being built to date.
The home sites at InnesLake offer a wide variety of sizes and terrain. Many of the blocks adjoin bush land reserve through which it is planned to establish walking and horse riding trails. It has become a home to not only Port Macquarie residents, but because of careful and innovative planning of the estate in continues to remain the home of many flora and fauna species.
Current Proposal
Due to the continuing growth of Port Macquarie, residential land at Inneslake is now under increasing demand. The estate has become renowned as an exceptional and unique living environment.
Recently the Port Macquarie Hastings Council approved a further 300 lots and construction on the first stage will commence shortly (see future stages)
It was necessary to embrace and enhance the original vision and to demonstrate that a unique and environmentally sustainable development for residents, flora and fauna could be achieved.
We have been mindful of preserving Koala habitat and have planted many hundreds of Koala food trees to satisfy the requirements of State Environmental Planning Policy 44. The golf course is considered to be a very valuable resource for sustaining the Koala population.